Janne Haukkala
Edit
Janne Haukkala
 (es. Hemmo Karja) opiskeli samassa koulussa 
 Iida Mustosen
, Onni Tale Taalasmaan
, Elias Vikstedtin
 ja Lari Väänäsen
 kanssa. 
Jääkiekkoa
 harrastava Janne seurusteli jonkin aikaa Iidan kanssa, mutta Jannen päädyttyä Heidin
 kanssa sänkyyn pari erosi lopullisesti ja Iida alkoi seurustella Jannen hyvän ystävän Larin kanssa. Janne todisti Heidin puolesta oikeudessa tytön joutuessa syytteeseen alaikäiseen sekaantumisesta. Iidan ja Larin erottua Janne alkoi huolehtimaan surevasta Iidasta ja pari alkoi taas tapailla toisiaan. Janne on ollut myös Iidan tukena tämän anoreksian
 aikana.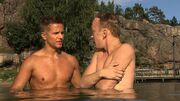 Ad blocker interference detected!
Wikia is a free-to-use site that makes money from advertising. We have a modified experience for viewers using ad blockers

Wikia is not accessible if you've made further modifications. Remove the custom ad blocker rule(s) and the page will load as expected.