Jiri Viitamäki
Edit
Jiri Viitamäki (es. Mikko Parikka, 2010–) on Lasse Sievisen ja Paula Sievisen Armi -siskon poika. Paula törmäsi Jiriin sattumalta Vilnassa. Myöhemmin Jiri tuli Suomeen ja muutti Sievisille.
Vilnassa tavanneet Jiri ja Heidi Aaltonen kohtasivat toisensa uudestaan Pihlajakadulla. Jirille selvisi Heidin olevan Joonatan Sievisen tyttöystävä, jonka vuoksi Jiri lupasi jättää Heidin rauhaan. Jiri ja Heidi alkoivat seurustelemaan Joonatanin lähdettyä Suomesta. Pari on eronnut ja palannut takaisin yhteen useita kertoja.
Pihlakadun 23:n 100-vuotisjuhlassa Jirin ja Lassen välille syttyi käsirysy, jonka seurauksena Jiri putosi parvekkeelta ja loukkaantui pahasti. Fysioterapeutti Tobias Nylundin avulla Jiri toipui ennalleen.
Keväällä 2012 Sergei Kuulan menetettyä liiketoimintaoikeutensa Cafe dAmDaMiin, Jiri päätti ostaa kahvilan itselleen Lassen rahallisella avustuksella. Kahvila avattiinkin pian uudella nimellä, Cafe Moose. Syksyllä 2012 Jiri innostui vapaaotteluista yhdessä Joonatanin kanssa.
Joonatanin ja Jirin vedon seurauksena Jirillä on ollut pientä sutinaa Katariina Mäkelän kanssa. He alkoivat seurustella.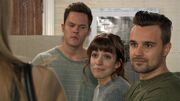 Ad blocker interference detected!
Wikia is a free-to-use site that makes money from advertising. We have a modified experience for viewers using ad blockers

Wikia is not accessible if you've made further modifications. Remove the custom ad blocker rule(s) and the page will load as expected.