Kristiina Pohjonen
Edit
Kristiina Pohjonen (ent. Liisa Laitela, o.s. Kumpulainen)
 (es. 
Maria Nieminen
) on Ismo Laitelan entinen vaimo sekä Kalle ja jo edesmenneen Miia Laitelan äiti, jonka luultiin kuolleen jo vuosikymmeniä sitten syöpään. Syksyllä 2013 kuitenkin selvisi Liisan olevan edelleen elossa ja käyttävän nykyisin nimeä Kristiina. Hänellä on uudesta 
suhteestaan myös tytär, Sanni, joka ei aluksi tiennyt mitään äitinsä menneisyydestä. Keväällä 2014 Ismo ja Sanni saivat tietää totuuden Liisasta. Maaliskuussa Ismo sai tietää, että Liisalla oli mies ennen kun sairastui. Ismon, Kristiinan, Sannin ja Kallen ruokahetki meni pieleen kun Ismo käski Sannin ja Kristiinan menevän pois. 
Liisa on nähty sarjassa aiemmin Ismon hypnoosissa syksyllä 2009. Ismo kuvitteli Liisan myös puhuvan hänelle jouluaattona 2001 esitetyssä erikoisjoulujaksossa.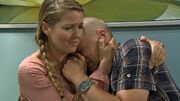 Ad blocker interference detected!
Wikia is a free-to-use site that makes money from advertising. We have a modified experience for viewers using ad blockers

Wikia is not accessible if you've made further modifications. Remove the custom ad blocker rule(s) and the page will load as expected.