Pekka Toroppa
Edit
Pekka Toroppa
 (es. Juho Lehto) on henkilö, jota Iida Mustonen
 luuli isäkseen. Iida ei ollut missään tekemisissä isänsä kanssaan lapsuudessaan, mutta Maria-äitinsä kuoleman jälkeen Iida halusi tietää kuka hänen isänsä on. Muutaman väärän henkilön jälkeen Janne
 löysi Pekan, vaikka Iida oli jo päättänyt lopettaa isänsä etsimisen. Iidan ja Pekan 
ensitapaamisen jälkeen he lähentyivät nopeasti. Iidan ja Jannen eron jälkeen Iida lähti Pekan mukana Asikkalassa sijaitsevalle mökille. Mökillä Pekka paljasti Iidalle, ettei hän olekaan Iidan isä ja lukitsi hänet talonsa kellariin.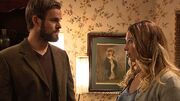 Ad blocker interference detected!
Wikia is a free-to-use site that makes money from advertising. We have a modified experience for viewers using ad blockers

Wikia is not accessible if you've made further modifications. Remove the custom ad blocker rule(s) and the page will load as expected.